Cap Artrutx
Holidays Guide
Airport:

0 miles / km

Direct Transfer:

0 Hrs.

0 mins

Transfer Options:
Shared Shuttle from

12 Eur

pp

or Taxi max. 4 pers.

Eur

, Public Airport Bus - none
Would Cap Artrutx suit us?
Quiter location but next Cala en Bosch
Purpose built holiday resort with lots of attractions, with very pleasant marina to sit and watch the world go by
Plenty to see and do within walking distances
Close to Ciutadella for a change of scene for mums and dads
Plenty of good Bars and Restaurants within walking distance
Close to Ciutadella for better restaurants, musical entertainment and moonlit harbour strolls
Many excursion boats to nearby virgin beaches
Watersports
Cap D'Artrutx is located on the south western tip of the island. Aproximatley 45-50 mins., from the Airport. With views over to neighbouring Majorca and just 10km south of the beautiful old city of Ciutadella, which is reachable via a regular bus service. Also known by all these names: Cala D'en Bosch, Cala n Bosch or Cala en Bosc. Use the Interactive Maps link to take a tour from your PC!

Overview
Cap D'Artrutx is the quiter area at the entrance to Cala en Bosch, where the acoomodation is mostly in holiday villas. Cala en Bosch is livelier resort ( by Menorca standards ) south of Ciutadella the hub of which is centred around the yacht Marina. There is a wide variety of Bars and Restaurants surrounding the Marina and is a great spot to watch the boats slowly come and go at their own leisurely pace. Wander through the small selection of shops and local stalls in the evening, having enjoyed the sandy beach during the day, maybe even a day trip on the glass bottom boat, or visit Ciutadella just 15-20 minutes away.

Built in the 1980s, Cala en Bosch is one of a handful of resorts on the island purpose built for tourism. As such it contains more attractions than other resorts making it livelier than most. As such it also has the highest concentration of Hotels and Aparthotels on the island.
Facilities
Being a purpose built holiday resort it contains all you need from a holiday resort while still retaining charm because of the popular Marina area. Neighbouring Son Xoriguer has perhaps become too dominated by hotels while Cala en Bosch ( Cap D' Artrutx ) still offers private villa accommodation away from the "buzz"/ noise giving you the best of both worlds.
Menorca Holiday Tips
It is quite common for the prices of the childrens entertainment to seem quite high at first sight, but often the charge is for a day ticket or a large number of hours, so you can always return later in the evening before or after a drink/meal or snack at the Marina. Make sure you get a stamp to allow them back in later.
Aquapark - Cala en Bosc
Resort 'tested' and approved!
Cala en Bosch - Marina
Bars for all tastes and budgets
Getting About
There is a regular bus ( No. 65 ) with stops around Cala en Bosch and Son Xoriguer to Ciutadella.
Daytime Entertainment
The 'Goody Goody Park' on the corber of the Marina has a good selection of indoor amusement halls, bouncy castles, small pool with waterslides, ball pits, bowling, crazy golf, bumper cars, and trampolines and all things to brighten the eyes of children and to keep them amused. Parents can enjoy a drink in the patio areas and have an eye open on them, but still "relax".
Around the marina there is an assortment of indoor and outdoor amusements for small and the not so small.
Cycling
The whole area is totally flat so there is all manner of pedal driven two and four wheeler, single seater, multi seater cycles for hire dotted around the commercial centres for hire . There is a 10km cycle route to Ciutadella where you can also visit other beaches on this strip of the western coast to cool off.
Boat Trips to Virgin Beaches
From the marina there is a selection of boat trips to see the island from the sea and to visit some of those picture postcard beaches you can see above and read about here.
Ciutadella ( Old City Harbour ) Boat Excursions
Various trips south and north of Ciutadella harbour, including some sunset trips to Pont Gill (scenic sea landmark )
Menorca Blava ( www.menorcablava.com ) full day trips to south west beaches, with swim stops (Son Saura,Es Talaier,Cala Turqueta and Macarella) and sunset trips on saturday evenings
Laamp for high speed trips for smaller groups
Various sailboast with skipper to charter or joing small groups
Cala en Bosch Harbour Boat Excursions
Menorca Holiday Tips
These trips take in more bays as they as much closer than the Ciutadella port boats so use bus or drive here if you want to see more.
Subject to weather there are 2 glass bottom boats making trips taking in the southern coast line and bays with it's virgin beaches upto Trebaluger/Cala Escorxada. Usually with swimming stops ( at Cala Galdana ,Cala Trebaluger,Cala Binigaus ) and an extended stay ( circa 1-2hr mins ) at one of the bays ( Son Saura or Cala 'n Turqueta ) on route. Trips last circa 3.5 hours. First trip mornings is:10:00-13:30, second trip afternoons is: 14-17:30 note p.m itinery may be different.
Departures from Cala en Bosch marina. Both boat companies ( Amigos and Don Pancho ) travel the same route at roughly the same time for safety reasons-so pick the boat/itinery you like the best!
They might also offer a sunset trip up towards Ciutadella/ Pont den Gill as the sun sets behind Majorca's northern Mountains.
See local Information boards at Marina for current itineries, times and prices as they change
Amigos ( www.holidaylines-menorca.com for videos and information) example prices Adults (12+) 15-18 Eur ,Children (4-12) 7-8 Eur, Under 4's are Free
Don Pancho
Ciutadella city old harbour
Ciutadella city old harbour
Cala en Bosch Marina (Boats moored near marina exit)
Excursions listing
Menorca Holiday Tip
Playa Son Saura can even be reached on foot ( 1 hr - 1 hr 30min ) from a path starting from the eastern end of Son Xorigeur beach.
Alternatively a little more personal is motor boat coast trekking - from Surf Sail Menorca.
Diving
Blue water Scuba located in the commercial centre at Cap D'artrutx offer dives from the shoreline ( boat dives on request ) , free pool based try dives and equipment hire www.bluewaterscuba.co.uk
Riding
Small riding centre at Son Olivar Nou ( just outside resort on main road to Ciuitadella on right hand side )
Beach Side Fun
Cala en Bosch beach is just a few minutes walk from the Marina with all its facilities. On the beach you can hire pedaloes or just enjoy snorkelling in the bay.
At nearby Son Xoriguer you can waterski ( peak season only ) ,windsurf ( tuition available ), sail on a Hobie Cat/Dingy or simply get wet on banana boat rides. Surf Sail Menorca provide hire and tuition.
Water Park and Karting - Aquarock Cala en Bosch
Aquarock is a collection of water fun, electronic amusements, trampolines and Go Karting. Staff are vigilant and the facilities clean and modern. On site Cafeteria with sensible prices. The waterpark is open daily (May - October) from 10:30 until 18:00 children under two are free. Over 11's count as adults. The Karting track is next door open daily from 10:30 until 22:30 See web site for current opening times and prices. Bus no. 65 from Ciutadella. Address Cova Des Moro, Cala en Bosch tel. 971 387 822

www.aquarockmenorca.com
Menorca Holiday Tips
After 15:30 the water park entrance price is halved but closes at 18:00. Afterwards you can visit the nearby marina with its other childrens attractions ( eg Goody fun park ) with relaxation areas for mums and dads, have something to eat or just watch the world go by. Of the two waterparks this is perhaps the better one to visit.
Great fun when switched on
Spa & Wellness centre at the five star La Quinta Hotel in Son Xoriguer.
Nightime Entertainment
As with most resorts in Menorca, evening entertainment here is generally to be found in the resort Bars but nothing that would ever compare to the neon jungle of the popular resorts along the south coast of Majorca. Mahon and Ciutadella however offer something for everyone, but with none of the "binge drink clubbing" to be found on Ibizia and Majorca. Menorca is NOT Majorca but that is why many people come here!
The Bars and Restaurants around the marina come alive at night providing a choice of entertainment for all ages and tastes. In high season you can find a wide range street artists and small street traders offering their handicrafts and jewellry. The childrens play parks stay open late so mums and dads can also have some time to themselves.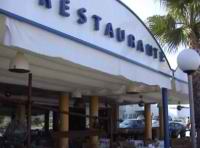 Wide variety of restaurants
Marina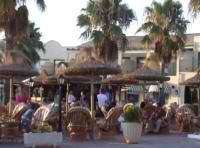 Wide choice of Cafes and Bars
Bars & Restaurants
Bars
At Cap D'artrutx there is a small commercial centre with some bars catering to the villas there. The rest are all around the marina so it just makes sense to stroll a slow circuit and then decide which one is 'your scene'. There are enough that you will find something to your liking. Also head to Ciutadella early evening.
Restaurants
The resort caters for a wide range of tastes and price ranges.
El Plato (good value/quality and very family friendly ), Cafe Balear
>> more
Near By...
Ciutadella
A taste of former elegant times with fine old spanish palaces, moorish influences, a wonderful old centre and a charming little harbour. Ciutadella was the original capital of the island lying at the western edge of the island looking out to its bigger neighbour Mallorca. A superb contrast to the beach and holiday resort. Great atmosphere and shopping and a place to wander the pedestrianised old city and its many narrow streets with hidden shops and Cafe treats. Also competes with Mahon for the title of the best music bars and venues on the island. The scene for the spectacular Sant Joan festival in June, when stunning native black horses parade through the streets and the brave try to "touch the horses' heart" as it rears in front of them.
Near By...
Cala Morell
A small quiet fishing village resort and residential ares on the north west coast set in dramatic rocky coastlines. Best known for the extensive man made (Bronze and Iron ages) cave dwellings nearby that give a real sense of cave "living" ( though many caves were also for burial ). Some are sophisticated with central roof columns and 'windows'. Some are obviously younger and larger, cut with more advanced metal tools, but the smaller older ones gives a view into another world. A good place to combine with a visit to the beautiful virgin beach of Algaiarens and walks through the very attractive valleys of Vall de Algaiarens. Bus 62 circa 15 mins 1.85 Euro single ( 2012 ) or by Hire Car.
TIP bring a torch to see the really special ones
Cap Artrutx nearest Beaches 2021
Wi-Fi and Internet
Bars offer free WiFi ( passwords on request ) More and more towns have free WiFi in their main public square. WiFi on Menorca
Buses - Cap Artrutx
Looking for Airport Shuttle / Transfers?
Bus Network Map to download
TIP:Mahon will mostly be written on timetables, front of buses and signposts as Maó, it's local name. If you are staying longer than a week take a trip on this good network and see some of the other sights, resorts/towns and attractions.
Bus Timetable and destinations - Cap Artrutx
Cap Artrutx - See and Do
What is the Weather like in Cap Artrutx
Weather now Partly cloudy
Cap Artrutx has a mediterranean climate characterised by hot dry summers. Menorca has pleasant cooling Summer breeze. The sea temperatures at Cap Artrutx will be around 22-26 degrees in Summer. In October the water is still warm. Spring time ( early March to April ) will have sunny days with temperatures around 20 and above , ideal for sightseeing, walking, cycling and horseriding activities.
Wetter & forecast through the year
Restaurants and Bars in Cap Artrutx
Villas and Apartments Cap Artrutx, Menorca
Self Catering : Accommodation only from basic Apartments to Luxurious Prestige Villas
Packaged Self Catering Villas and Aparthotels Holidays
Choose from James Villas / Jet2 Villas
2021 Hotels in Cap Artrutx
Popular Hotels Cap Artrutx
---
^